–
Disclaimer: It is design week and I hope I will be able to articulate myself well in these posts. Due to my high energy and overall excitement about the events, these posts may seem a bit over the top, full of emotions and as a whole… will probably contain a ton of exclamation marks. Let's just say… you have been warned.
(This coming weekend, you can expect a full video recap and video clips from each day on my YouTube Channel! Follow me on twitter & instagram – I will post the link there when it is posted! Or subscribe to my channel to see it first! In the mean time, I will be blogging here all week!)
Read my other Design Week Portland posts here!
–
Tonight I went and saw Stefan Sagmeister do this talk on happiness. I have seen him talk a bunch of times on happiness, but only through videos online. Even though his content was pretty much the same… it was what happened after the show that was the most magical.
But first, on with the show. Well, let me back up… I have been a fan of Stefan for a very very long time. I am semi obsessed with album art and Lou Reed, and when I learned he did art work for Lou Reed back in in 1996, I was instantly hooked. The album was full of handwritten typography that I could just not get enough of. So, it was really cool getting to meet someone whose work you have been paying attention to for years.
Ok, now on with the show.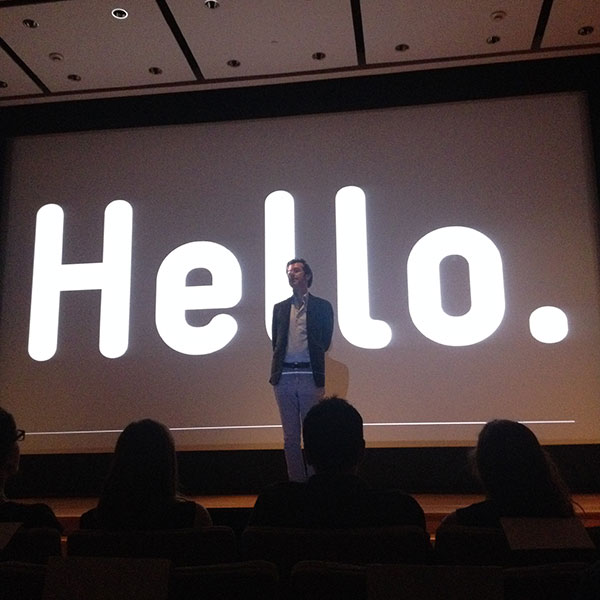 What I enjoyed about this talk, was that it was not about design. It was about self-exploration within himself that turned into him sharing everything he learned with the world, and in turn, I am sure has made an impact on peoples lives.
Through this exploration of happiness, he wanted to create a movie documenting three months of his life while trying three proven methods of happiness (meditation, therapy and drugs), just to see if it made an impact on his life. However, he said the movie was so much harder than he anticipated due to his lack of skill in the quality of work he wants to produce. Which means the film has not been finished and he talked about this very openly. He said it has been a real struggle for him mentally and has really weighed him down, and has been really hard. It was so nice hearing someone, who has accomplished a lot of what they have set out to do, that they feel bummed out about things as well. That they cannot complete projects because they don't know everything. It was a very real moment, as was the whole evening. Stefan is just like one of us, a human being.
As you may know, Stefan takes an entire year off every seven years to work on things he does not normally have the time to work on. During the seven years he is working, he constantly makes a list of things he wants to do during that year. When the year is approaching, he goes down the list, crosses off things that are not interesting anymore and creates a plan for a year. He said that he tried to not create a plan for one of the years, and it was not worth while in his opinion. He did not get out of it what he had hoped.
"I didn't have a plan. The outside world did all the planning for me… I answered e-mails all year." – Stefan Sagmsiester
I can totally relate to the idea of having a plan, even if it is to enjoy some leisure time. I also think it is more a matter of making decisions for yourself to not do certain things. Even if it is as little as not picking up your phone while you are watching a great movie, or crossing things off of your list that you once thought you wanted to do, but don't really have interest to do anymore.
He ended his talk by saying that something that has helped him consistently in his quest to discover different levels of happiness, is by every night, he writes down three things that worked that day, that made him happy. I think it is only appropriate that I end his post with my three. Please leave your three in the comments below, I would love to hear them!
What worked today:
1. I came home from working, with the full intention of doing two design week events tonight… and nearly passed out on my couch. I was so exhausted from the week. So, I stayed home and nurtured my soul a little bit. It was nice and very necessary!
2. Starting my "I don't know" project. More on that later!
3. I listened to a new album today recommended by a friend. If you love Jerry Garcia and David Grisman, you'll love this!
Oh, wait… I told you that something magical happened at the end. I went to the VIP mixer afterward and hung out with incredible designers, had unbelievable conversations about real things and I truly feel like I made some friends out of the night! Also, Stefan talked to every single person in that room for as long as that person wanted to talk to him. He was so patient and incredibly thoughtful with everything he said and how he treated every person in that room. It really was magical… but not as magical as Stefan being in a vlog with me! Here is a screenshot of the vlog – HE IS SO DAMN TALL! Half the vlog has his face cut off, haha! Keep an eye out for my video on Sunday, I will include a clip in there!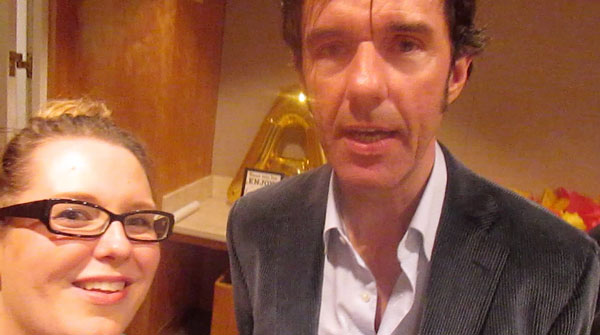 Let me know your three things that worked for you today in the comments!
Don't forget how awesome you are :)!
See you tomorrow – I am doing something really fun for the final Design Week adventure, so stay tuned!
Thank you for reading,
J