–
Disclaimer: It is design week and I hope I will be able to articulate myself well in these posts. Due to my high energy and overall excitement about the events, these posts may seem a bit over the top, full of emotions and as a whole… will probably contain a ton of exclamation marks. Let's just say… you have been warned.
(This coming weekend, you can expect a full video recap and video clips from each day on my YouTube Channel! Follow me on twitter & instagram – I will post the link there when it is posted! Or subscribe to my channel to see it first! In the mean time, I will be blogging here all week!)
Read my other Design Week Portland posts here!
–
Holy shit. It's only Tuesday? That means three more days of feeling the way I am feeling right now (enlightened, exhausted and excited… all at once)? THE THREE E'S? I'M IN! *thumbs up!*
Tonight I attended Curiosity Club Panel Discussion "This is It – Or is It? " at Hand-Eye Supply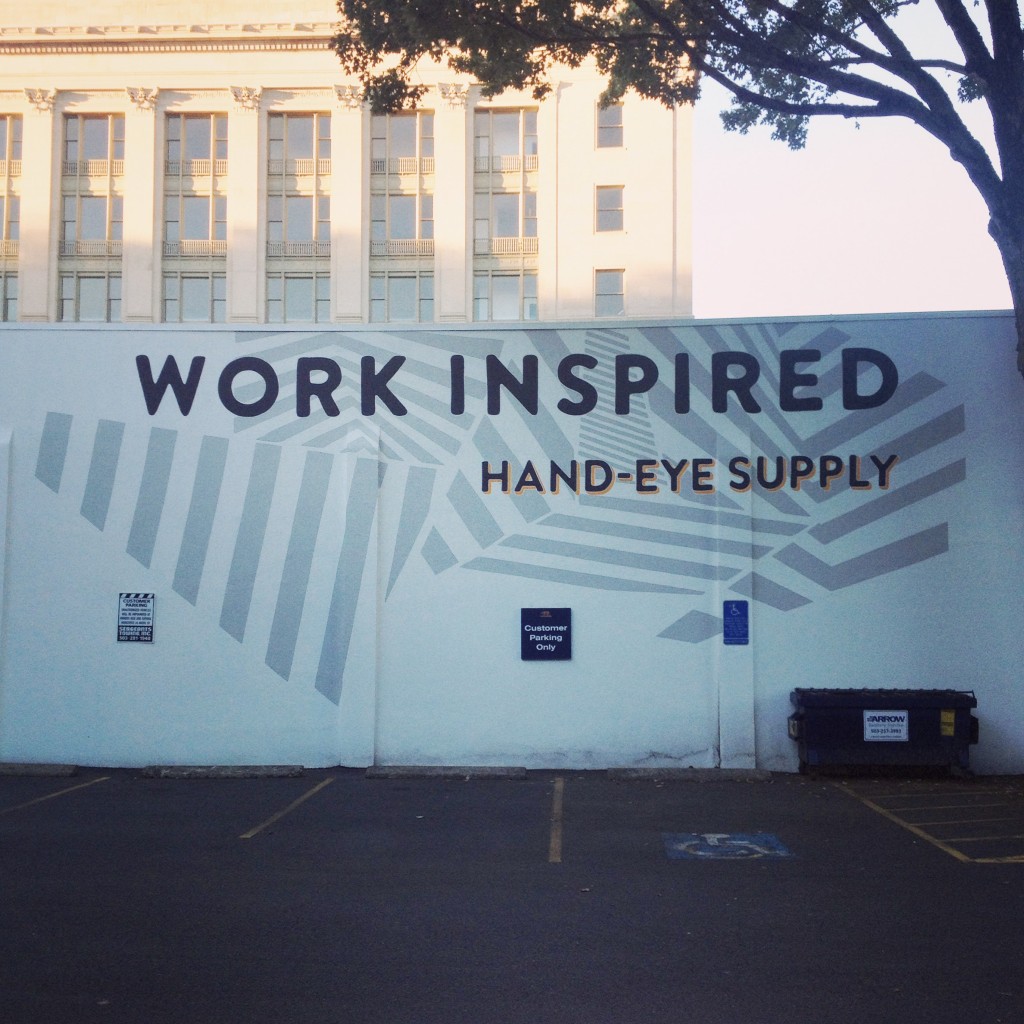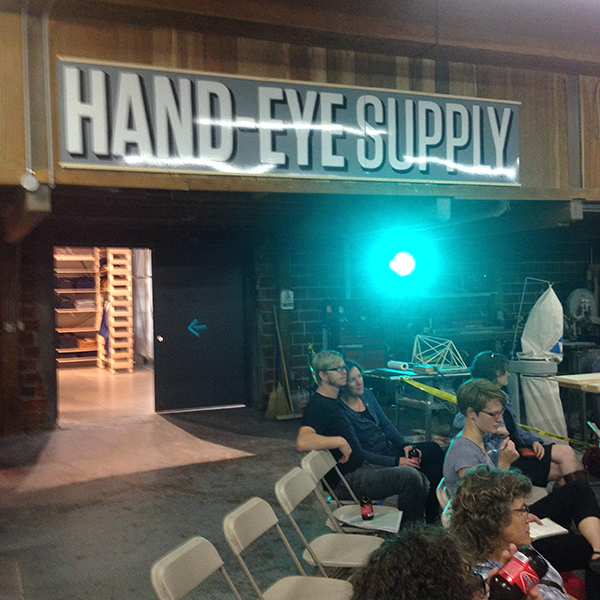 I did not even tweet during this event, because I was so fixated on every word the panel was saying. I, however, filled my notebook with quotes after quotes after quotes. Which I am going to share with you!
I didn't tweet during the last event because I literally was hanging onto every word that panel said. So, I wrote it all down instead. Hehe :) #dwpdx
The premise of this panel discussion was for everyone to talk about their 'ah ha' moments of when they realized they were on the right path in their creatives lives & then to also talk about those moments in life, where they realized they were not going down the right path for themselves. All of that was talked about, but I wanted to share my favorite moments and quotes with you, from each panelist!
Kate was the first to talk, she is an illustrator and educator. She started off the talk by introducing herself and she spoke very candidly about how she was originally a mass communication major and pretty quickly realized, that it was not for her, burnt her mass comm book (no, she really did!) and switched her major to English.
"I realized that I had control of my education. I can drop this stupid major and do what I want to do" – Kate Bingaman-Burt
It was in that moment, that Kate realized that SHE was the one in control of HER life.
"Be an active participant in your life" – Kate Bingaman-Burt

"Make the path you want to walk along" – Kate Bingaman-Burt
I loved listening to Kate talk, not only because she exudes energy and is a great speaker, but you can tell that everything she is working on in her life right now, are things she truly cares about. As someone who is intentionally shifting what their life can look like in the next several years (me), I really admire that about her. For the first time in my life, I feel like the path I have been working to create for myself has finally caught up with me and I can wholeheartedly say that I also am working on things that I am proud of and excited about. Honestly, we CAN create the lives we want. It is something I preach constantly in my everyday life, in my videos, literally everywhere. Ask my friends, I don't shut up about it and I felt like I was standing with the panel tonight on that curated path we are all building for ourselves. It was really f*cking cool!
The next seat in the panel was Dave, from 33 Books. Dave ran a beer blog and a brewing company with his friends several years ago. During this period in his life, he really wanted a way to track the beers he has drank and loved, so he created these this lovely, handy book, called 33 Beers.
"I wanted to make something for myself" – Dave Selden
In a month, he sold out of the 33 beers books and since then, he has created several other books for cheese, wine, cigars, etc. The books have totally taken off and people love them! The really beautiful part of Dave's story, is that this idea really came from a place of need and enjoyment for him. Which has resulted in a need he has found in the market. The other cool thing, is that once the user has experienced the book, they will also feel enjoyment from it just like Dave did! Full circle shit right there. :)
Next in line was Nial, from Hovercraft Amplifiers.  Nial talked about that on his path to discovery in terms of what he wanted to do for his career, he really wanted two things; to feel contentment and satisfaction. He measured this by seeing if each opportunity that came his way aligned with three things: money, fun and art. He says he specifically looks for that "F*CK YES!" moment in life and that he rarely works on something unless it hits all three of them.
Nial said that it has taken him years and years of introspective thinking and really treating his life experiences as a blender to create what is important to him right now. I felt pretty energized listening to him talk about his life as a whole. It made me think how important it is to stay aware of where your life is now, where it has been and where it is going. Staying aware plays such a major part in the decisions we make today, as they will play a role in where our future does actually end up.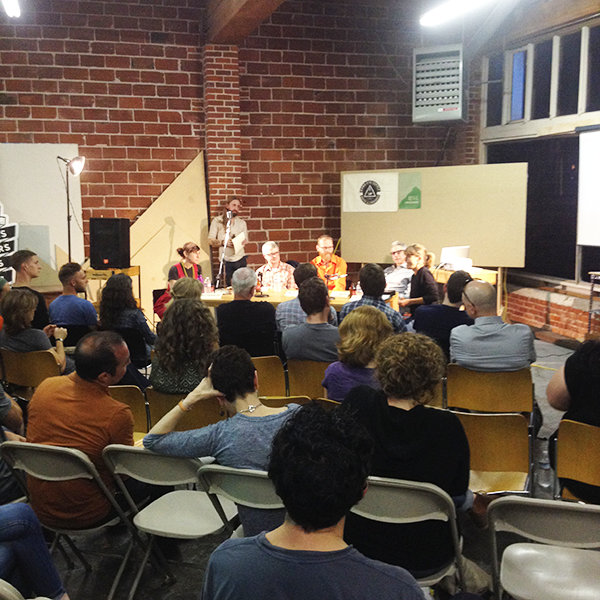 Niko from Plazm Magazine was next up and he spoke about his climb to the top in the corporate world as a designer. In short, Niko has had a very successful career in the corporate-adding-letters-to-the-end-of-your-title, sort of way. While he was explaining his background to us, his face was not lit up at all and he mentioned several times how meaningless the work had become for him.
"As you go up the ladder, you do less and less of what got you there." – Niko Courtelis
As Niko started talking about the fact that he really started focusing on spending more time working on his hobbies, his face lit up entirely! You could tell how passionate he felt about the work he is doing now. The really interesting thing that happened, was that the more and more he focused on his hobbies, the more opportunities in that realm came about. Which has lead him down a path that allows him to fully focus on the things he loves and has a career doing it.
I find that time and time again, the "success" stories that I hear from individuals all stem from a place of interest within themselves. Meaning, they are all working towards and on something they truly believe in, and if they worked hard enough, figured out how to actually make it work, they can and do make a living off of it. Pretty freaken brilliant!
The last person in the panel was Dee Williams, from Portland Alternative Dwellings. Dee talked a lot about the steps we go through during problem solving and creating.
" 1. I think I got it! This is AWESOME!
2. Oh. This is really hard.
3. This sucks. Ugh!
4. I suck. I can't do this!
5. I can figure this out…
6. This is awesome! I got this! "
– Dee Williams
It's so true, isn't it? I could totally relate while she was going down that list! She went on to say that you can really relate it to any situation in your life. To me, it made me think that when I am working through steps 2-4, I just need to remember that it will get better, life always moves on and I will be OKAY!
"I feel like I am always fumbling, but I always come back to leaning in to knowing that it is okay and it will always be okay." – Dee Williams
This panel had to be the most captivating and awesome experience yet at design week for me. I felt like I was in a room full of people who understood how I think and how I feel on a day to day basis. I also felt like I was in a room full of people who have taken windy roads to get to where they are today, they stayed true to who they are and are now able to spend their days working on things they believe in and love, and what could be better than that?
HI FIVE to that! :)
Thank you for reading this and going on this week long adventure with me!
YOU are great and a gift within itself! Don't ever forget that!
See you tomorrow,
Jehn