—
Disclaimer: It is design week and I hope I will be able to articulate myself well in these posts. Due to my high energy and overall excitement about the events, these posts may seem a bit over the top, full of emotions and as a whole… will probably contain a ton of exclamation marks. Let's just say… you have been warned.
(This coming weekend, you can expect a full video recap and video clips from each day on my YouTube Channel! Follow me on twitter & instagram – I will post the link there when it is posted! Or subscribe to my channel to see it first! In the mean time, I will be blogging here all week!)
Read my other Design Week Portland posts here!
—
Whoa. Today was a busy day! THREE events! I am feeling a bit tired, but am excited to share with you my day… and what an eye opening, shift thinking, type of day it was!
The first event I went to was "Designing for Social Change" put on by The Metropolitan Group. 
I got a little lost finding the place and while I was struggling looking at my map, someone comes up to me and asks "are you looking for The Metropolitan Group?". I was so thankful she spoke up, because we quickly found where we needed to go. Once we got to our final destination, the desk asked us our names and I said "Jehn Glynn, G-L-Y-N-N". And the girl who I met outside looked at me and goes "So, this might be creepy, but my name is Kristen & I follow you on twitter. I participated in your #heyjehnlook project on your last typography video!" I wanted to give her a hug. She was the first person, who wasn't in my family, who participated in that project and it really meant a lot to me. Right after Kristen and I finished gushing and laughing about meeting twitter friends in real life, some guy says "not to add to the creepiness… but I am the voice behind DWPDX. You sent me the direct message yesterday and we communicated," So funny! Met two twitter friends today! I knew after that, i was ready to take on the day!
So, I have been interested in exposing myself to the inner working of the social change world for a while now. I always knew my favorite clients to work with were one that I felt connected with, that I felt like I aligned with their goals and purpose and ones that overall, did good for others. Also, my really good friend, Sarah, is all about social change – So, when I saw this event as an option, I had to sign up and boy am I glad I did!
Upon sitting down, I discovered a "goodie bag" that had a beautifully crafted and curated workbook for each of us, a newly sharpened pencil and a sharpie. I was incredibly impressed with the level of detail that went into this workshop. You could tell they were into it, which made me even more excited to be in a room with all of these incredible people!
The Metropolitan group walked us through 3 clients they have worked with, and they talked about everything from process, budgets and decision making to the amount of communication and time spent with the issue on hand and how becoming so familiar with it, and how that makes for a much greater end result.
This workshop really shifted my thinking a bit, in terms of the direction I would like to not only see my some of work life go, but more importantly, my time away from work. The homeless community holds a special place in my heart, as my mother was homeless for quite some time before she passed and I have been looking to get involved with an organization here in Portland that works towards preventing homelessness. If any of you know of anything like that, here in town, please let me know! Thank you in advance!
The second event I went to today, was called Re: Re: Re: Re: Re:volution: The history of e-mail, which was put up on eROI.

This lecture was pretty much a history lesson of e-mail. Sounds like it might be boring, but it was in fact just as exciting as I hoped it would be! I have worked a lot in the e-mail world, and I just find it all to be very fascinating! The presenters (their lead designer & developer) were funny, smart and very relatable. It was so cool watching this clip, of Ray Tomlinson describe when he knew how impactful his invention of e-mail was.
The third and final event I went to, was Design + Biomimicry: Applying Whole-(eco)Systems Thinking put on by Biomimicry for Creative Innovation at Hatch.
The venue that this was held had, is absolutely gorgeous! I got some good clips of it that should be in the video on Sunday, but holy cow! They even had an art installation hanging from the ceiling. Pretty cool!
Stefanie Koehler, who was the presenter, talked about how we as humans solve problems for other humans, by asking said humans, what their problem is and how they would like it to be solved. But how we do we solve problems in nature, if we cannot ask them what their problem is? The thing is, nature tends to create its own solutions that happen in a much more sustainable way. Stef is trying to bridge that gap between humans and nature, so we can solve problems in a more fluid and sustainable way. Pretty neat!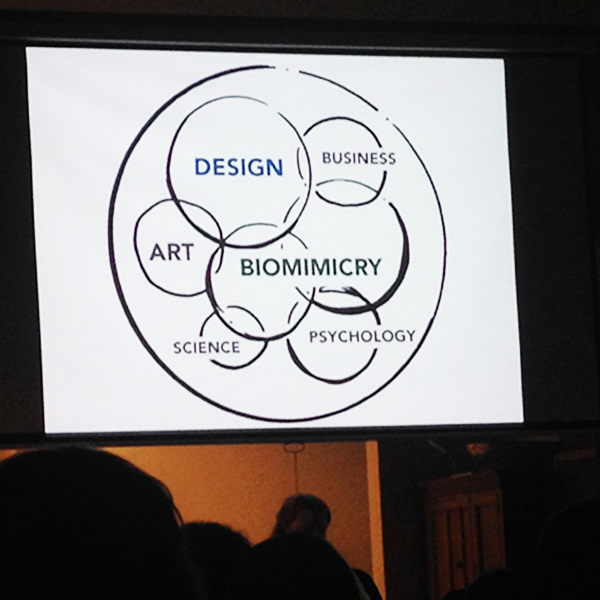 She also said something, that I just absolutely loved, which related to the slide below. "Design isn't 'that thing you made', it is about how you got there".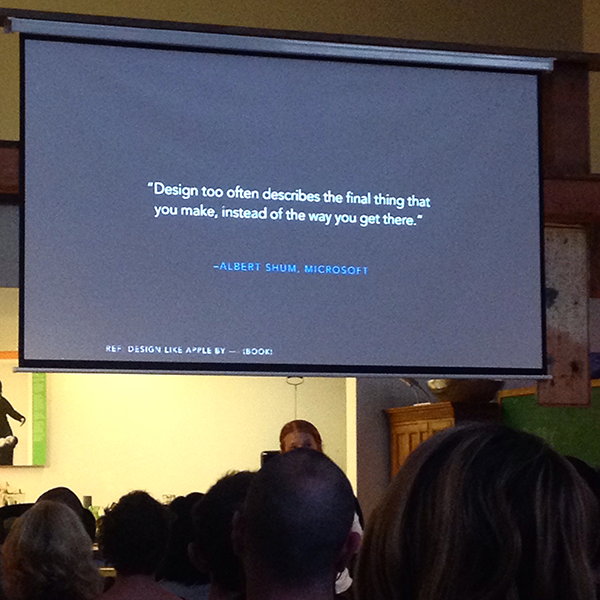 That wraps up day three! I had an incredible, eye opening day! Thank you so much for reading this and going on my Design Week journey with me!
Enjoy your day, see you tomorrow!
Stay curious –
Jehn
P.S. Are you going to be in Portland, November 14-16th? If so, sign up for Portland Startup Weekend here! 
P.P.S. Read all about Day 1 & 2 here!